Weekly Wrap Up is a weekly post in which I recap posts, showcase new books and highlight what's to come! Also, I share a pic of the week and share discussion posts that caught my eye*. Stacking the Shelves is hosted by Tynga's reviews & The Sunday Post is a weekly meme hosted by Kimba the Caffeinated Book Reviewer.
Hey!
First, I wanted to mention that I am looking for Guest Bloggers for the two weeks I'm out on vacation. (Technically, one week but I need a week to Get My Things Together). Hopefully, I can find some awesome people that would like to post regularly so, we shall see! I'm excited! Check out my Wanted Ad for details!
In other news: I've loved the comments and support on my post about Insecurities. It was a post of past and present insecurities I shared! I did pretty well not getting many books for review! YAY! I'm reading really slow so I'm trying really hard to NOT overwhelm myself!
Life update. My 5k is NEXT WEEK. I'm not ready. Like, at all, but I think for the most part I'll be fine. My knee has been better and swelling is almost non existent so there's that!
Posts last week
[wrap-up-posts week="23″ year="2016″ listtype="ul"]
Current Giveaways
♥ Any book by an Author that debuted in 2016 (OPEN INT) — Ends Jun 19th, 2016
♥ Finished copy of SHADOW MAGIC (3 WINNERS, US Only) — Ends Jun 13th, 2016
♥ Any Middle Grade Book releasing in June! INT — Ends Jul 10th, 2016
Currently Reading
All The Pretties!
Books received from authors and publishers are for review consideration. Covers link to Goodreads
For Review
**Coral & Bone received from YAI
Purchased
Zero!
Zero!
New books I discovered
Life sucks, and then you rot. No one knows how Dermadecatis is contracted, but its existence has changed everything for 18-year-old Lena, in this riveting debut from Taylor Hondos.

No contact with other people.

Masks must be worn in public at all times.

Four months ago men, women and children alike began to rot from the inside out, and the world as we know it changed forever. Life goes on, but now everything revolves around the need to survive and find a cure for Dermadecatis, the disease that Lena Alona's father discovered.

Unfortunately for Lena and everyone else who is desperate to survive, her father's secrets died when he did.
Posts that caught my eye!
Lexxie @ (un)Conventional book reviews talks about Sex in Books
Aila @ Happy Indulgence talks about Agreeing to Disagree
Christy & Erica from Novel Ink are looking for another Co-Blogger
Lauren @ Bookmark Lit shares books that she will buy when she has a house with a library
Eva @ All Books Considered talks about Interactions with Authors
Zoey @ Uncreatively Zoey has a Discussion: Blogger Faux Pas
Holly @ The Fox's Hideaway has Part II of Have You Seen This?
Laura @ Boats Against the Current shares some tips on What To Do When You Tink Your Writing Sucks
New at my Etsy Shop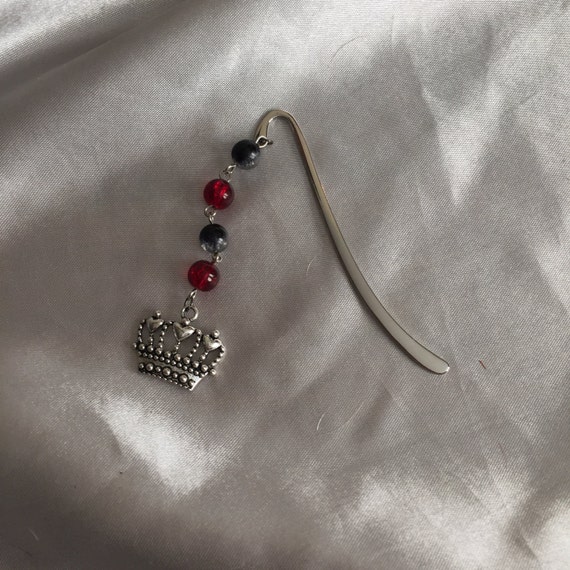 Crown mini bookmark with red and black beads
Visit my SHOP to see more!
 New on Instagram
Until Next Week…

Never miss a post!
Tonyalee is an avid reader, gym junkie, coffee addicted workaholic, and blogger. Be sure to follow on Twitter, Facebook & Instagram for random shenanigans.