Thanks to one of my close friends Jessica @ Lovin Los Libros for tagging me! (Like, almost a month ago!) Created by The Book Life, the Taylor Swift Book Tag is a fun way to pair book titles to famous Taylor Swift songs through a handful of questions.
I try really hard to keep most books showcased on this blog Young Adult – but I found it difficult. So there may be a few that are NOT.
[divider]
1. "We Are Never Ever Getting Back Together"
Pick a book (or book series) that you were pretty sure you were in love with, but then wanted to break up with: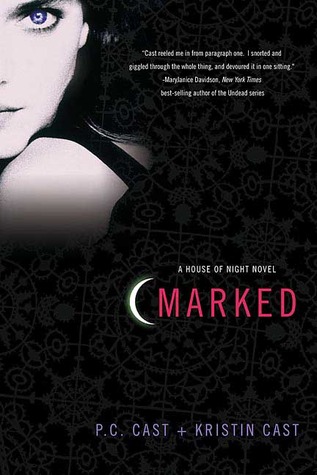 I read Marked – and up to book 7? years ago. After awhile though and NOTHING was happening, I just gave up. This is the perfect example of a series that had I picked up today, I would hate.
Pick a book with a RED cover
I didn't realize how hard it would be to find a red cover. And I haven't even read this. (All the ones I found were Adult)
Pick a book that makes you feel nostalgic
If there is one book I have re-read, it's this one. I read it the first time when my hubby was in Iraq and I think about it often.
Pick a book with forbidden love
5. "I Knew You Were Trouble"
Pick a book with a bad character you couldn't help but love
DeMalo. Now, I didn't LOVE him per se, but he was an evil man and I loved disliking him. lol
6. "Innocent"
Pick a book that someone ruined the ending for
In all fairness – I did ask.
7. "Everything Has Changed"
Pick a character from a book who goes through extensive character development
SYDNEY!
Pick your most anticipated book release
AND LOOK AT THE COVER!
Pick your favorite book couple
Lela and Malachi. Because, duh.
Pick the book you would least like to lend out, for fear of missing it too much
I bought this after listening to the audio – and I probably wont EVER lend this out.
11. "Teardrops on My Guitar"
Pick a book that made you cry a lot
Seriously, I ugly cried.
Pick a book that you love so much, you just shake off the haters
Nuff' said.
Favorite autographed book
This has a special place on my book shelf!
14. "Welcome to New York"
Favorite setting
It's in Atlanta! but besides that, I love how Ilona Andrews destroyed and rebuilt the city.
15. "Today Was A Fairytale"
Favorite retelling
Beauty and the Beast will ALWAYS be my favorite and this one was done SO well!
[divider]
– I tag –
Danielle @ What Danielle Did Next
Christy @ Novel Ink
Sarah @ Forever 17 Books
Tonyalee is an avid reader, gym junkie, coffee addicted workaholic, and blogger. Be sure to follow on Twitter, Facebook & Instagram for random shenanigans.