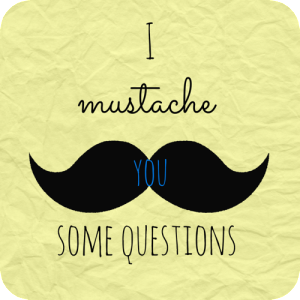 Thank you to Wendy @ Book Scents for tagging me!
Four names people call me other than my real name:
Mom, Mommmm – mommy, mama..
Ladybaby
Tonta (I don't even know)
Sis
Four jobs I've had:
I worked at Subway part-time while going to school
Medical Assistant – How I miss this job with a passion
Nanny – KUDOS to all the nanny's – NEVER AGAIN
Licensing/Compliance – my current job
Four movies I would/have watched more than once:
Pitch Perfect!! Aca-believe it
Howl's Moving Castle. This is one of my ALL TIME favorites
Spirited Away – Again, another ALL time favorite. (And the sound track is amazing!)
Save the Last Dance.
Four books I'd recommend:
Sanctum by Sarah Fine – C'mon, y'all knew that would be first!
A Thousand Pieces of You by Claudia Gray – such a beautifully mind-boggling book.
Love Always, Kate by D. Nichole King – UGLY CRYING
Life Interrupted by Kristen Kehoe – This book touched me on a personal level.
Four places I have lived:
Tacoma, WA – Where I am from
Fort Hood, TX
Murrayville, GA – This was in the COUNTRY.
Dawsonville/Cumming, GA – Where I am at now
Four places I have been:
New York, New York
Orlando, Florida
I don't even remember the town name, Oklahoma
ALL OVER. California
Four places I'd rather be right now:
In bed, sleeping
On the beach
At work – I know, I know. Insane.
The Mall – I need some shoes and books
Four things I don't eat:
Beef – Okay I eat steak like, once every 6 months or so
Sushi/Fish – YUCK YUCK and YUCK
Snowball cakes – I eat a lot of sweets, okay? This is one I WILL NOT EAT
Ummm… I don't know… I eat a lot.
Four of my favorite foods:
Soup!
Pizza
Muffins
Cheese. I love me some cheese.
Four TV shows that I watch:
Empire. This show is craaaaaaazy.
20/20 – I am OLD
Wheel of Fortune. Does this count??
FOOTBALL – Yes, this counts
Four things I am looking forward to this year (2015):
SEAHAWKS WINNING THE SUPERBOWL. HELLO
Getting a raise. $$$
Visiting Jessica and Wendy!
Reading, because DUH
Four things I'm always saying:
"Hey Lady"
"No."
"I need more coffee."
"#$%&" – Hint, it starts with a F
Four People I tag:
Danielle @ What Danielle Did Next
Sarah @ Forever 17 Books
Anyone else who wants to do this!
Tonyalee is an avid reader, gym junkie, coffee addicted workaholic, and blogger. Be sure to follow on Twitter, Facebook & Instagram for random shenanigans.