With Father's Day around the corner, you may be thinking about some fun and unique Father's Day gift ideas that won't break the bank. I don't know about you, but I ALWAYS struggle with what to get my dad, my partner, and even my ex-husband (because I have to with the kiddos!) for Father's Day.
Then I thought, why not try a subscription box?
What is a subscription box?
A subscription box is a recurring box sent to you, or as a gift, on a monthly, quarterly, and even a one-time basis; within many different budgets and many different themes to choose from.
Whether you are thinking of Father's Day gifts for your own dad, spouse, friend, or father figure, a new dad, the cook, the reader, the mystery lovers… a subscription box is always a great Father's Day gift idea to consider!
That's why I took to the internet and created this fun list of subscription boxes. Below, check out 10 Subscription Boxes to gift for Father's Day for ANY dad.
Disclaimer: This post contains affiliate links, which means commissions are earned for qualifying purchases made through links in this post. Read more about this on my Disclaimer Policy.
Father's Day Gift Guide: Subscription Boxes for All Budgets
Grill Master's Club
The Grill Masher's Club box is for griller's or those that want to spice up their grill game!
Each box contains the best grilling and BBQ goods and supplies hand-selected by a certified BBQ pitmaster. Which may include: spices, rubs, sauces, accessories, and more.
Each box includes a recipe as well.
The HopsHead Beer Club
Calling all Beer Fans!
The HopsHead Beer Club is a box full of Hoppy beers from two or more breweries. In each box, there are 12 12oz. bottles, three in each flavor.
Want to know more about each beer? Each box contains notes, beer profiles, brewery histories, and pairing details.
What I love about this box is that you can order your favorites at a discount, too!
The SaloonBox DIY Cocktail Kit
Probably one of my favorite gifts ideas for Father's Day, is this DIY kit to create your own drinks and be your own bartender!
The SaloonBox contains everything you need, spirits too, to create yummy cocktails at home without having to do endless research on recipes and multiple trips to the store.
Each box contains ingredients for 4+ cocktails. This is perfect for wanting to try new drinks, or just to have fun at home a Friday night! Or even for the entertainer.
Finders Seekers Mysteries
Is your dad or father figure into mysteries, travel, or puzzles? How about escape rooms?
With Finders Seekers, you can explore different cities & cultures every month with this at home DIY escape room kit.
And, it's family friendly!
Escape the Crate
Another fun mystery box!
Escape the Crate is slightly different. It's a time-traveling adventure box that is bimonthly. Each box may contain ciphers, letters, sleuthing tools, puzzles, and more! Plus, the internet is required for this one.
It also isn't a long as other's, but still perfect for adventure loving dads!

Escape the Crate – $29.99
from: Cratejoy
Jerky Snob
Looking for a snack box that is perfect for hikers, snackers, protein lovers, and the health-conscious? Jerky Snob is the way to go!
Each box contains a variety of healthy, artisan jerky made with high-quality ingredients. No MSG, nitrates, nitrites, or high fructose corn syrup.
There are 3 sizes to choose from: 2 bags (4 oz), 1/2 lb (4 bags), 1 lb (8 bags), and a variety of subscription lenths.
For anyone with dietary restrictions, email their support and let them know!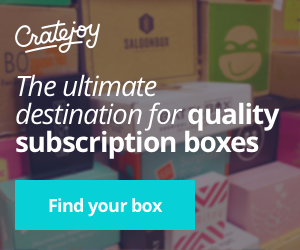 Piquant Post
Another foodie style box but with a twist!
The Piquant Post is a box that contains the freshest spices from around the world, with recipes, to add tasty dishes from around the globe to your weekly meals; without the hassle.
Each box contains 4 of these blends, or "flavor kits. They are also all-natural, with no fillers, preservatives, or sugar.

Piquant Post
Culture Carton
A fun box with a mix of lifestyle goodies for men at a super high value! Each 'Standard' box value is $90-$120!
The Culture Carton contains 1 book & 3-5 full-size lifestyle items each month. These products range from leather goods, grooming products, gourmet food products, style accessories, and more.
Perfect for literary loving dads and the perfect Father's Day gift for the dad that has a variety of lifestyle interests.
The Rad Dad Box
The Rad Dad box is the perfect gift for all NEW dads out there!
Each box contains fun and practical items welcomes them to Fatherhood! There are 3-4 items per box, that may contain grooming products, snacks, "dad themed" books & apparel and even some activities and toys for the new baby.
Murphy's Beard Balm
If your dad has a beard and loves (or maybe NEEDS?) to groom their beard then this box from Murphy's Beard is the right box for gifting!
This super affordable box will leave them smelling and feel Great!
Also, you can save even more by using code "FIRSTBOX" to save 68% on your very first box on Month to Month Subscriptions.

Murphy's Beard Balm – $37.99
from: Cratejoy
Let's Chat
What box listed is your favorite box as a Father's Day gift? Have you given a subscription box as a Father's Day gift before?
Tonyalee is an avid reader, gym junkie, coffee addicted workaholic, and blogger. Be sure to follow on Twitter, Facebook & Instagram for random shenanigans.