Thanks for stopping by my stop on E.J. Wesley's Winter Thrills and Chills blog tour. To see more reviews and excerpts, click on the tour banner to be taken to the schedule!
~Book 1, Blood Fugue~
"Some folks treated the past like an old friend. The memories warmed them with fondness for what was, and hope for what was to come. Not me. When I thought of long ago, my insides curdled, and I was left feeling sour and wasted."

Jenny Schmidt is a young woman with old heartaches. A small town Texas girl with big city attitude, she just doesn't fit in. Not that she has ever tried.

Life has pummeled her heart into one big, lonely callus. She has no siblings, both parents were dead by sixteen, and her last grandparent—and caretaker—was in the ground before she turned twenty-one. She's the last living member of her immediate family. Or so she thinks…

"We found my 'grandfather' sitting at his dining room table. An entire scorched pot of coffee dangled from his shaky hand. His skin was the ashen gray shade of thunderclouds, not the rich mocha from the photo I'd seen. There were dark blue circles under each swollen red eye. A halo of white hair skirted his bald head, a crown of tangles and mats. Corpses had more life in them."

Suddenly, instead of burying it with the dead, Jenny is forced to confront the past. Armed only with an ancient family journal, her rifle, and an Apache tomahawk, she must save her grandfather's life and embrace her dangerous heritage. Or be devoured by it.
Amazon | Smashwords |Barnes & Noble|iBooks |Goodreads
My thoughts
Blood Fugue was a great start in these analogies! It's very fast paced, yet you get a great feel for the characters. Although this was a pretty short story, it doesn't lack in punch. The writing is smoothly and I love the snarky, sarcastic wit that Wesley brings out.
I really like Jenny! She is so different, with her purple Mohawk and no-nonsense attitude. She's gamer and stands out in a small back wards town she lives in. She is tough, hilarious and pretty bad ass. I understood her bitterness and her hesitations to believe the drastic turn her life takes. But I applaud her for taking up her heritage and stepping up to the plate.
Overall- I really enjoyed it! It's a fast read that sucks you in wanting more.
---
 ~Book 2- Witch's Nocturne~
 After receiving an ancient tribal journal from her grandfather, Jenny is sent on a mission of discovery in an attempt to unravel clues to her family's monster hunting past. The journey becomes more than academic when she is asked to confront a coven of dangerous witches who plan to cast an insidious spell on the plains of West Texas.
 Amazon |  Barnes & Noble |  Smashwords |iBooks | Goodreads
My thoughts
I started reading this one right after finishing Blood Fugue. there was a little time gap between the two and I loved how the summary was done. Quick and to the point, but definitely not lacking.
In this installment, Jenny is suffering slightly from nightmares due to the events that played out in the first book, with her Grandfather. Tension is high between her and her best friend, Marshall, when she is contacted by a Witch asking for her help to stop her coven from performing a spell on her town.
This book was just as quick, fun and good as the first. I love details but there are times when I enjoy thing straight to the point and that's exactly how these books are. This one doesn't lack action either. I like how we get to know more about Marshall and Jenny in each installment. Although you have a pretty good generalize idea about each one, it's nice to get a few more details.
Overall- Really good!
---
 ~Book 3- Dark Prelude~
Jenny Moonsong recently inherited the title of "monster hunter" and an ancient tribal journal/how-to manual passed down by her Apache ancestors. Unfortunately, a lot of on-the-job training is required to be a monster hunter, and unlike her computer repair business, this gig could literally kill her.

Dark Prelude finds the feisty protagonist, Jenny, searching for her best friend Marshal's missing father in the midst of a freak, West Texas winter storm. To survive the frigid night, she'll have to deal with a hated town rival, face a monstrous creature no Moonsong hunter has ever encountered before, and undo a mysterious curse. Can she keep everyone alive? If not, who will pay the ultimate price?
Amazon | Smashwords | Barnes & Noble | iBooks | Goodreads
My thoughts
I have the luxury of reading all of these back to back but i must say, this one was my favorite of the three. For starters, a few events that played out in the previous installment lapse over. As I said before, I really enjoy Wesley's writing! I love how everything is so fast paced, thrilling and to the point. The humor isn't lacking in this installment either.
I actually left that there was a different tone in this one. I felt like the stakes were higher and the "monster" a little more gruesome. I loved the twist thrown in and I can't wait to see where the events that happen take our characters.
Overall- Violent and fast paced, this was definitely the best of the three.
*A received all three books from CBB and the author for review purposes*
~ ~ ~ ~ ~ ~ ~ ~
Buy the first three TOGETHER
The Moonsongs Anthology 1 collects the first three Moonsongs books–a series of New Adult paranormal-horror-action novelettes–in one exciting volume. Follow Jenny and her best friend Marshal on their dangerous quest to unlock the secrets of her past.
Moonsongs Anthology 1 collects the three previously published Moonsongs adventures: Blood Fugue (Book 1), Witch's Nocturne (Book 2), and Dark Prelude (Book 3).
Available in print & eBook via Amazon  | Goodreads
The Remaining Books in the Analogy
~ ~ ~ ~
Tour Organized by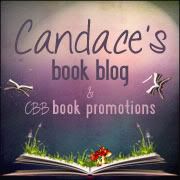 Tonyalee is an avid reader, gym junkie, coffee addicted workaholic and blogger. Be sure to follow on Twitter, Facebook & Instagram for random shenanigans.